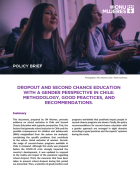 Second Chance programs and schools consider different levels of approach, since it is understood that, although the ideal is that no student leaves school before graduating, for those who are outside the system, it is necessary to offer options that allow them to reintegrate and have equal opportunities.
Education is essential for women to attain gender equality and become leaders of change. A girl or a woman who attends school is exercising her fundamental human right to education. She also has a great chance of reaching her full potential throughout life, as she will be better prepared for a decent, well-paid job. Although Chile is a country with high schooling rates compared to the regional and worldwide numbers, inequalities can still be observed in access to education for girls and...
Conducted within the scope of the "Win-Win: Gender equality means good business" programme, which is implemented by UN Women together with the International Labour Organization (ILO) and funded by the European Union (EU), this research aims to know the impact of sexist advertising on brand positioning.