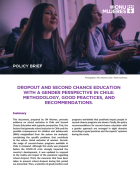 Second Chance programs and schools consider different levels of approach, since it is understood that, although the ideal is that no student leaves school before graduating, for those who are outside the system, it is necessary to offer options that allow them to reintegrate and have equal opportunities.
Science and technology are sectors in rapid growth; they are vital to national economies and this means that STEM (Science, Technology, Engineering and Mathematics) skills have been identified as necessary for a country to remain economically competitive. In recent years, increasing digitalization has led to growing demand for professionals in technology fields, yet it is estimated that most of these positions will be occupied by men. After this, a survey for completion by companies that use...
In order to make progress in achieving significant equality in the country, it is necessary to analyze the conditions in which discrimination and gender gaps occur. Through this scenario, UN Women, in partnership with the Government of Colombia through the DANE, developed the flagship report "The Progress of women in Colombia 2018: transforming the economy to guarantee rights", a study that contributes to promoting accurate information that allows for the analysis and implementation of concrete actions so that the country fulfills its commitments to the Sustainable Development Agenda for the Year 2030.