Business Case - Report on Equality Means good business: Gender Perspectives and Inclusion in companies: Financial and non-financial impacts.
Science and technology are sectors in rapid growth; they are vital to national economies and this means that STEM (Science, Technology, Engineering and Mathematics) skills have been identified as necessary for a country to remain economically competitive. In recent years, increasing digitalization has led to growing demand for professionals in technology fields, yet it is estimated that most of these positions will be occupied by men. After this, a survey for completion by companies that use...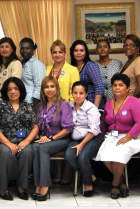 Candidates belonging to the nine registered political parties in the general elections of 2013, women of different ages, names and a single nationality, joined by political adventure and the desire to position itself in the public space that until half a century ago was closed to Honduran women were part of the Academy of candidates.