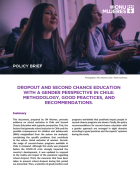 Second Chance programs and schools consider different levels of approach, since it is understood that, although the ideal is that no student leaves school before graduating, for those who are outside the system, it is necessary to offer options that allow them to reintegrate and have equal opportunities.
Education is essential for women to attain gender equality and become leaders of change. A girl or a woman who attends school is exercising her fundamental human right to education. She also has a great chance of reaching her full potential throughout life, as she will be better prepared for a decent, well-paid job. Although Chile is a country with high schooling rates compared to the regional and worldwide numbers, inequalities can still be observed in access to education for girls and...
Science and technology are sectors in rapid growth; they are vital to national economies and this means that STEM (Science, Technology, Engineering and Mathematics) skills have been identified as necessary for a country to remain economically competitive. In recent years, increasing digitalization has led to growing demand for professionals in technology fields, yet it is estimated that most of these positions will be occupied by men. After this, a survey for completion by companies that use...