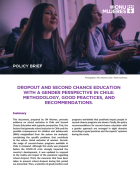 Second Chance programs and schools consider different levels of approach, since it is understood that, although the ideal is that no student leaves school before graduating, for those who are outside the system, it is necessary to offer options that allow them to reintegrate and have equal opportunities.
Business Case - Report on Equality Means good business: Gender Perspectives and Inclusion in companies: Financial and non-financial impacts.
Science and technology are sectors in rapid growth; they are vital to national economies and this means that STEM (Science, Technology, Engineering and Mathematics) skills have been identified as necessary for a country to remain economically competitive. In recent years, increasing digitalization has led to growing demand for professionals in technology fields, yet it is estimated that most of these positions will be occupied by men. After this, a survey for completion by companies that use...