UN Women conducts decentralized evaluations for acountability, learning and decision-making purposes. This series of four briefs aims to facilitate the strategic use of evidence generated through such evaluation work in the Latin America and Caribbean region. A meta-synthesis was conducted of 20 evaluation reports carried out from 2015-2020 in the region across four key programmatic areas of UN Women: (1) women's economic empowerment; (2) governance and political participation; (3) women, peace...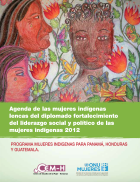 Strengthening the social and political leadership of indigenous women is a document that reflects as an obstacle the lack of confidence in the system political and ignorance of politics and the erroneous idea that politics is for men, which is evident in the low participation and exclusion of indigenous and poor women in the political system.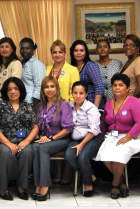 Candidates belonging to the nine registered political parties in the general elections of 2013, women of different ages, names and a single nationality, joined by political adventure and the desire to position itself in the public space that until half a century ago was closed to Honduran women were part of the Academy of candidates.