UN Women conducts decentralized evaluations for acountability, learning and decision-making purposes. This series of four briefs aims to facilitate the strategic use of evidence generated through such evaluation work in the Latin America and Caribbean region. A meta-synthesis was conducted of 20 evaluation reports carried out from 2015-2020 in the region across four key programmatic areas of UN Women: (1) women's economic empowerment; (2) governance and political participation; (3) women, peace...
In order to make progress in achieving significant equality in the country, it is necessary to analyze the conditions in which discrimination and gender gaps occur. Through this scenario, UN Women, in partnership with the Government of Colombia through the DANE, developed the flagship report "The Progress of women in Colombia 2018: transforming the economy to guarantee rights", a study that contributes to promoting accurate information that allows for the analysis and implementation of concrete actions so that the country fulfills its commitments to the Sustainable Development Agenda for the Year 2030.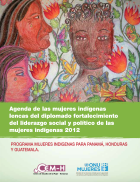 Strengthening the social and political leadership of indigenous women is a document that reflects as an obstacle the lack of confidence in the system political and ignorance of politics and the erroneous idea that politics is for men, which is evident in the low participation and exclusion of indigenous and poor women in the political system.