Business Case - Report on Equality Means good business: Gender Perspectives and Inclusion in companies: Financial and non-financial impacts.
This publication is a study on the National Integrated System of Care in Uruguay that allows analyzing the advances in care policies in the country from a gender equality perspective.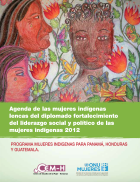 Strengthening the social and political leadership of indigenous women is a document that reflects as an obstacle the lack of confidence in the system political and ignorance of politics and the erroneous idea that politics is for men, which is evident in the low participation and exclusion of indigenous and poor women in the political system.