Business Case - Report on Equality Means good business: Gender Perspectives and Inclusion in companies: Financial and non-financial impacts.
UN Women conducts decentralized evaluations for acountability, learning and decision-making purposes. This series of four briefs aims to facilitate the strategic use of evidence generated through such evaluation work in the Latin America and Caribbean region. A meta-synthesis was conducted of 20 evaluation reports carried out from 2015-2020 in the region across four key programmatic areas of UN Women: (1) women's economic empowerment; (2) governance and political participation; (3) women, peace...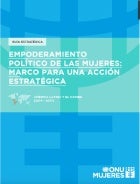 The strategic guide: "Political empowerment of women: framework for strategic action in Latin America and the Caribbean (2014-2017)", provides a framework for action identified in five strategic objectives, to move towards parity democracy and empowerment of women. These are: promoting parity democracy through affirmative action; the integration of a gender perspective in policies, actions and institutions; strengthening women's leadership through training and the creation of women's networks; encouraging substantive equality in political parties; and elimination of discrimination and gender stereotypes in all areas.