UN Women conducts decentralized evaluations for acountability, learning and decision-making purposes. This series of four briefs aims to facilitate the strategic use of evidence generated through such evaluation work in the Latin America and Caribbean region. A meta-synthesis was conducted of 20 evaluation reports carried out from 2015-2020 in the region across four key programmatic areas of UN Women: (1) women's economic empowerment; (2) governance and political participation; (3) women, peace...
For women in poverty, the burden of care work and unpaid house¬work adds to their already overwhelming workload that implied by providing of some of the services listed above. This undermines the exercise of their rights, restricts their autonomy and freedom of movement and limits the time they can devote to other activities, including paid work.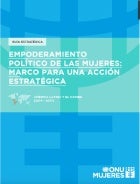 The strategic guide: "Political empowerment of women: framework for strategic action in Latin America and the Caribbean (2014-2017)", provides a framework for action identified in five strategic objectives, to move towards parity democracy and empowerment of women. These are: promoting parity democracy through affirmative action; the integration of a gender perspective in policies, actions and institutions; strengthening women's leadership through training and the creation of women's networks; encouraging substantive equality in political parties; and elimination of discrimination and gender stereotypes in all areas.