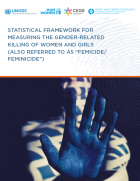 This document provides a comprehensive statistical framework for measuring the gender-related killing of women and girls (femicide/feminicide). Besides the statistical definition of such killings, the framework identifies a typology of gender-related killings of women and girls (femicide/feminicide) and the list of variables that can be used to identify and count the various types of such killings. The definition and typology are aligned to the structure and framework of the International Classification of Crime for Statistical Purposes (ICCS), which can therefore be applied independently from the specific national legislation on such crimes.
UN Women conducts decentralized evaluations for acountability, learning and decision-making purposes. This series of four briefs aims to facilitate the strategic use of evidence generated through such evaluation work in the Latin America and Caribbean region. A meta-synthesis was conducted of 20 evaluation reports carried out from 2015-2020 in the region across four key programmatic areas of UN Women: (1) women's economic empowerment; (2) governance and political participation; (3) women, peace...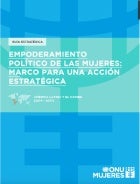 The strategic guide: "Political empowerment of women: framework for strategic action in Latin America and the Caribbean (2014-2017)", provides a framework for action identified in five strategic objectives, to move towards parity democracy and empowerment of women. These are: promoting parity democracy through affirmative action; the integration of a gender perspective in policies, actions and institutions; strengthening women's leadership through training and the creation of women's networks; encouraging substantive equality in political parties; and elimination of discrimination and gender stereotypes in all areas.