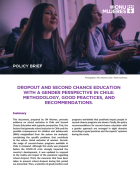 Second Chance programs and schools consider different levels of approach, since it is understood that, although the ideal is that no student leaves school before graduating, for those who are outside the system, it is necessary to offer options that allow them to reintegrate and have equal opportunities.
The extent of the socio-economic fallout from the COVID-19 pandemic has begun to shape the "new normal" for CARICOM Member States. A 1.5% contraction of Gross Domestic Product has already been estimated by the Economic Commission for Latin America and the Caribbean (ECLAC, 2020). While governments balance this "new normal," there is also an 'above-average' forecast for the 2020 Atlantic Hurricane Season, which takes place from June 1 to November 30.
In recent years, we have advanced progressively in the development of a conceptual and methodological basis for improving the processes of programme and project evaluation. This Guide has been elaborated with the intent of integrating gender equality, human rights and interculturality approaches into the UN Women evaluation cycle. It is a practical tool for those who undertake, manage and/or use evaluations.