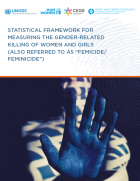 This document provides a comprehensive statistical framework for measuring the gender-related killing of women and girls (femicide/feminicide). Besides the statistical definition of such killings, the framework identifies a typology of gender-related killings of women and girls (femicide/feminicide) and the list of variables that can be used to identify and count the various types of such killings. The definition and typology are aligned to the structure and framework of the International Classification of Crime for Statistical Purposes (ICCS), which can therefore be applied independently from the specific national legislation on such crimes.
UN Women's youth and gender equality strategy: Empowered young women and young men as partners in achieving gender equality.
In recent years, we have advanced progressively in the development of a conceptual and methodological basis for improving the processes of programme and project evaluation. This Guide has been elaborated with the intent of integrating gender equality, human rights and interculturality approaches into the UN Women evaluation cycle. It is a practical tool for those who undertake, manage and/or use evaluations.