UN Women's youth and gender equality strategy: Empowered young women and young men as partners in achieving gender equality.
In recent years, we have advanced progressively in the development of a conceptual and methodological basis for improving the processes of programme and project evaluation. This Guide has been elaborated with the intent of integrating gender equality, human rights and interculturality approaches into the UN Women evaluation cycle. It is a practical tool for those who undertake, manage and/or use evaluations.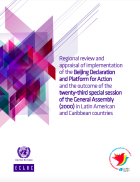 This report also indicates the main advances of the past 20 years based on the information provided by the region's countries on implementation of the Beijing Declaration and Platform for Action, in response to the recommendations made in the final document of the XXIII special session of the General Assembly (2000) for the regional and global reviews that would take place in 2015, on the twentieth anniversary of the Beijing Conference (Beijing+20). The report has also taken into consideration reports from ECLAC, 2014, the Caribbean Development Bank, and CARICOM.