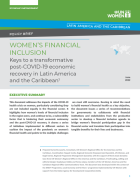 This document addresses the impacts of the COVID-19 health crisis on women, particularly considering they are not included equally in the financial sector. It highlights how women's levels of financial inclusion in the region were, and continue to be, a vulnerability factor that is hindering their economic autonomy and the post-COVID-19 recovery.
This document has been conceived to serve as a guiding framework for those involved in the development of comprehensive national care systems. It addresses key questions about why to invest in care, its importance and benefits for the advancement of rights, the elimination of social inequalities and the achievement of gender equality, the dynamization of the economy and the sustainability of development. Furthermore, it addresses the elements to be considered in the construction of Comprehensive Care Systems.
UN Women's youth and gender equality strategy: Empowered young women and young men as partners in achieving gender equality.