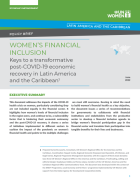 This document addresses the impacts of the COVID-19 health crisis on women, particularly considering they are not included equally in the financial sector. It highlights how women's levels of financial inclusion in the region were, and continue to be, a vulnerability factor that is hindering their economic autonomy and the post-COVID-19 recovery.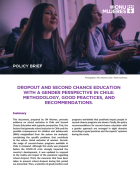 Second Chance programs and schools consider different levels of approach, since it is understood that, although the ideal is that no student leaves school before graduating, for those who are outside the system, it is necessary to offer options that allow them to reintegrate and have equal opportunities.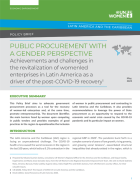 The Policy Brief "Public procurement with a gender perspective. Achievements and challenges in Latin America to energize women-led enterprises as an engine for post-COVID-19 recovery" identifies the main barriers that women face when competing in public tenders and collects some examples of good practices to operationalize the inclusion of women in public procurement and contracting in LAC. It also offers recommendations for harnessing the power of government procurement as an opportunity to respond to the economic and social crisis caused by the COVID-19 pandemic and its impact on women and to advocate for sustainable recovery.