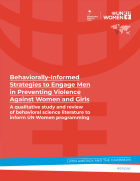 This document identifies potential target behaviors and barriers and proposes behaviorally-informed solutions to engage men in VAWG prevention in LAC. To this end, it draws on two sources: 1) a literature review of the behavioral science and VAWG literature focused on barriers, facilitators, and successful interventions; 2) qualitative semi-structured interviews with men and experts who work with men in VAWG prevention in LAC.

From the 20th anniversary of the Beijing Platform for Action to the historic adoption of the sustainable development goals, Nigeria banning female genital mutilation and Ireland legalizing same-sex marriage by popular vote, this timeline is a selection of some of the gender equality achievements, milestones and noteworthy moments from around the world this year.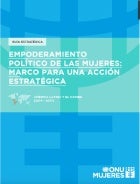 The strategic guide: "Political empowerment of women: framework for strategic action in Latin America and the Caribbean (2014-2017)", provides a framework for action identified in five strategic objectives, to move towards parity democracy and empowerment of women. These are: promoting parity democracy through affirmative action; the integration of a gender perspective in policies, actions and institutions; strengthening women's leadership through training and the creation of women's networks; encouraging substantive equality in political parties; and elimination of discrimination and gender stereotypes in all areas.