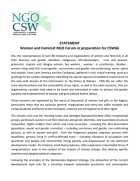 Representatives of over 80 networks and organizations of women and feminists in all their diversity and gender identities: indigenous, Afro-descendant, rural and peasant, grassroots, migrant and refugee women, sex workers , women in prostitution, disables , women living with HIV, trans-gender, non-binaries and gender non-conforming, senior adults and widows, from Latin America and the Caribbean, gathered in this virtual meeting, attending the special regional consultation session prior to the sixty-sixth Session of the Commission on the Status of Women - CSW 66; we suffer the same discriminations and the vulnerability of our rights, as well as the same concerns, that our organizations consider that need to be faced and eliminated in order to achieve the gender equality and empowerment of women and girls without further delays.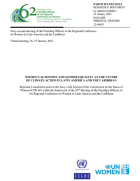 Women's Autonomy and Gender Equality at the Centre of Climate Action in Latin America and the Caribbean
Since the start of the COVID-19 pandemic, shrinking working hours, increased care burdens, and heightened violence have exacerbated the challenges that women and girls face. Unless action is taken, by 2021 around 435 million women and girls will be living in extreme poverty, including 47 million pushed into poverty as a result of COVID-19. This publication presents the latest evidence on the multiple impacts of the pandemic on women and girls.