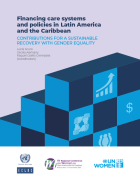 In Latin America and the Caribbean, care has gradually been placed at the centre of public agendas, albeit unevenly, as a result of growing political commitments, as well as the work of women's movements and feminist economic studies. These contributions have focused on the need to reorganize and redistribute care work as a key factor in more egalitarian and inclusive societies. Over the course of more than four decades, the member States of ECLAC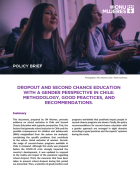 Second Chance programs and schools consider different levels of approach, since it is understood that, although the ideal is that no student leaves school before graduating, for those who are outside the system, it is necessary to offer options that allow them to reintegrate and have equal opportunities.
Since the start of the COVID-19 pandemic, shrinking working hours, increased care burdens, and heightened violence have exacerbated the challenges that women and girls face. Unless action is taken, by 2021 around 435 million women and girls will be living in extreme poverty, including 47 million pushed into poverty as a result of COVID-19. This publication presents the latest evidence on the multiple impacts of the pandemic on women and girls.