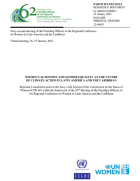 Women's Autonomy and Gender Equality at the Centre of Climate Action in Latin America and the Caribbean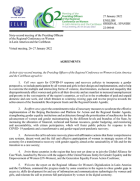 Agreements reached at the Sixty-second Meeting of the Presiding Officers of the Regional Conference on Women in Latin America and the Caribbean.
The "Women in politics: 2020" map, created by the Inter-Parliamentary Union (IPU) and UN Women, presents global rankings for women in executive, government, and parliamentary positions as of 1 January 2020. It shows all-time highs for the number of countries with women Heads of State and/or Heads of Government, and for the global share of women ministers, parliamentary speakers, and parliamentarians.