The objective of the Action Model is to ensure that UN Women, as an expert agency on gender equality and women's empowerment, offers appropriate programmatic options for the purpose of generating transformative changes for women and girls in the region, within the framework of the 2030 Agenda and the Sustainable Development Goals.
This document contains the six strategic priorities of UN Women for the Americas and the Caribbean, for the period 2019-2021. It details the key functions and collaborative advantages of the Regional Office, as well as a section on partnerships and social mobilization.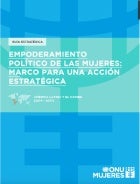 The strategic guide: "Political empowerment of women: framework for strategic action in Latin America and the Caribbean (2014-2017)", provides a framework for action identified in five strategic objectives, to move towards parity democracy and empowerment of women. These are: promoting parity democracy through affirmative action; the integration of a gender perspective in policies, actions and institutions; strengthening women's leadership through training and the creation of women's networks; encouraging substantive equality in political parties; and elimination of discrimination and gender stereotypes in all areas.