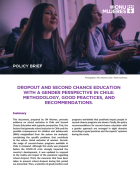 Second Chance programs and schools consider different levels of approach, since it is understood that, although the ideal is that no student leaves school before graduating, for those who are outside the system, it is necessary to offer options that allow them to reintegrate and have equal opportunities.
This document substantiates the importance of care work for societies, defines the care sector's current condition in Latin America and the Caribbean and describes the impacts caused by the COVID-19 crisis, as well as the contingency measures that have been implemented in various countries in the region to address the crisis. The document concludes with a series of policy recommendations to address the care crisis as a way out of the COVID-19 crisis.
Cash Transfer Programmes (CTP), widespread in Latin America and the Caribbean as a mechanism of social protection to alleviate social and economic difficulties of those living in poverty. CTP has been identified as one of the fastest mechanisms in the face of the COVID-19 crisis.