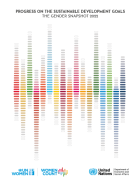 The Progress on the Sustainable Development Goals: The Gender Snapshot 2022 presents the latest evidence on gender equality across all 17 goals, calling out the long road ahead to achieve gender equality. The report shows that the world is not on track to achieve gender equality by 2030. COVID-19 and the backlash against women's sexual and reproductive health and rights are further diminishing the outlook for gender equality. Violence against women remains high; global health, climate and humanitarian crises have further increased risks of violence, especially for the most vulnerable women and girls; and women feel more unsafe than they did before the pandemic.
Business Case - Report on Equality Means good business: gender contribution to business, best practices and suggested KPIs framework
In recent years, we have advanced progressively in the development of a conceptual and methodological basis for improving the processes of programme and project evaluation. This Guide has been elaborated with the intent of integrating gender equality, human rights and interculturality approaches into the UN Women evaluation cycle. It is a practical tool for those who undertake, manage and/or use evaluations.