This year's regular resources report analyses how UN Women mobilized its core contributions in 2019 to fulfil its normative, coordination, and operational activities mandate, in order to improve the lives of women and girls worldwide. Through the presentation of tangible results, this report presents case studies at the global, regional, and country levels to showcase the impact that regular resources have in the countries where UN Women is present.
This report offers an overview of the activities carried out by UN Women in Latin America and the Caribbean during the 2016-2018 period. The delimitation of the period is not arbitrary; Those who are familiar with the organization, announce that they coincide with the validity of the previous Strategic Note, before the one that is in force today for the period 2019-2021 was adopted.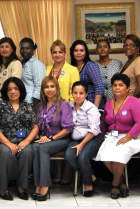 Candidates belonging to the nine registered political parties in the general elections of 2013, women of different ages, names and a single nationality, joined by political adventure and the desire to position itself in the public space that until half a century ago was closed to Honduran women were part of the Academy of candidates.