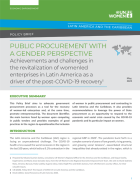 The Policy Brief "Public procurement with a gender perspective. Achievements and challenges in Latin America to energize women-led enterprises as an engine for post-COVID-19 recovery" identifies the main barriers that women face when competing in public tenders and collects some examples of good practices to operationalize the inclusion of women in public procurement and contracting in LAC. It also offers recommendations for harnessing the power of government procurement as an opportunity to respond to the economic and social crisis caused by the COVID-19 pandemic and its impact on women and to advocate for sustainable recovery.
This document has been conceived to serve as a guiding framework for those involved in the development of comprehensive national care systems. It addresses key questions about why to invest in care, its importance and benefits for the advancement of rights, the elimination of social inequalities and the achievement of gender equality, the dynamization of the economy and the sustainability of development. Furthermore, it addresses the elements to be considered in the construction of Comprehensive Care Systems.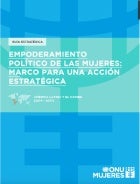 The strategic guide: "Political empowerment of women: framework for strategic action in Latin America and the Caribbean (2014-2017)", provides a framework for action identified in five strategic objectives, to move towards parity democracy and empowerment of women. These are: promoting parity democracy through affirmative action; the integration of a gender perspective in policies, actions and institutions; strengthening women's leadership through training and the creation of women's networks; encouraging substantive equality in political parties; and elimination of discrimination and gender stereotypes in all areas.