The objective of the Action Model is to ensure that UN Women, as an expert agency on gender equality and women's empowerment, offers appropriate programmatic options for the purpose of generating transformative changes for women and girls in the region, within the framework of the 2030 Agenda and the Sustainable Development Goals.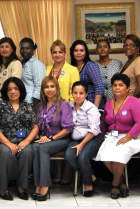 Candidates belonging to the nine registered political parties in the general elections of 2013, women of different ages, names and a single nationality, joined by political adventure and the desire to position itself in the public space that until half a century ago was closed to Honduran women were part of the Academy of candidates.
In recent years, we have advanced progressively in the development of a conceptual and methodological basis for improving the processes of programme and project evaluation. This Guide has been elaborated with the intent of integrating gender equality, human rights and interculturality approaches into the UN Women evaluation cycle. It is a practical tool for those who undertake, manage and/or use evaluations.