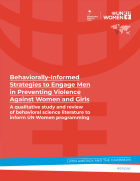 This document identifies potential target behaviors and barriers and proposes behaviorally-informed solutions to engage men in VAWG prevention in LAC. To this end, it draws on two sources: 1) a literature review of the behavioral science and VAWG literature focused on barriers, facilitators, and successful interventions; 2) qualitative semi-structured interviews with men and experts who work with men in VAWG prevention in LAC.
The objective of the Action Model is to ensure that UN Women, as an expert agency on gender equality and women's empowerment, offers appropriate programmatic options for the purpose of generating transformative changes for women and girls in the region, within the framework of the 2030 Agenda and the Sustainable Development Goals.
In recent years, we have advanced progressively in the development of a conceptual and methodological basis for improving the processes of programme and project evaluation. This Guide has been elaborated with the intent of integrating gender equality, human rights and interculturality approaches into the UN Women evaluation cycle. It is a practical tool for those who undertake, manage and/or use evaluations.