Business Case - Report on Equality Means good business: Gender Perspectives and Inclusion in companies: Financial and non-financial impacts.
Conducted within the scope of the "Win-Win: Gender equality means good business" programme, which is implemented by UN Women together with the International Labour Organization (ILO) and funded by the European Union (EU), this research aims to know the impact of sexist advertising on brand positioning.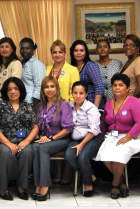 Candidates belonging to the nine registered political parties in the general elections of 2013, women of different ages, names and a single nationality, joined by political adventure and the desire to position itself in the public space that until half a century ago was closed to Honduran women were part of the Academy of candidates.