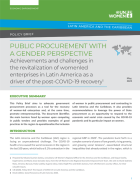 The Policy Brief "Public procurement with a gender perspective. Achievements and challenges in Latin America to energize women-led enterprises as an engine for post-COVID-19 recovery" identifies the main barriers that women face when competing in public tenders and collects some examples of good practices to operationalize the inclusion of women in public procurement and contracting in LAC. It also offers recommendations for harnessing the power of government procurement as an opportunity to respond to the economic and social crisis caused by the COVID-19 pandemic and its impact on women and to advocate for sustainable recovery.
The Latin American Model Protocol for the investigation of gender-related killings of women is a practical tool, designed to be applied by the people responsible for carrying out the investigation and prosecution of these acts. Its main objective is to offer guidance and lines of action to improve the practice of those working in the justice system, forensic experts, and other specialized persons, including those acting in relation to the crime scene, the forensic laboratory, the interrogation...
In recent years, we have advanced progressively in the development of a conceptual and methodological basis for improving the processes of programme and project evaluation. This Guide has been elaborated with the intent of integrating gender equality, human rights and interculturality approaches into the UN Women evaluation cycle. It is a practical tool for those who undertake, manage and/or use evaluations.