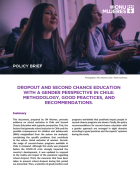 Second Chance programs and schools consider different levels of approach, since it is understood that, although the ideal is that no student leaves school before graduating, for those who are outside the system, it is necessary to offer options that allow them to reintegrate and have equal opportunities.
Developed by UN Women, CIM and MESECVI, this practical legal guide brings together a systematic and analytical compilation of 130 judgments, decisions, and resolutions in paradigmatic cases, so that both civil society and public institutions -legislative, executive, and judicial- can count with tools for the cross-cutting application of the protection standards in force in International Human Rights Law, related to cases of gender-based violence against women. Violence against women in politics is included. (Note: The blurb should be a tiny, jargon-free description of the publication (ma
Cash Transfer Programmes (CTP), widespread in Latin America and the Caribbean as a mechanism of social protection to alleviate social and economic difficulties of those living in poverty. CTP has been identified as one of the fastest mechanisms in the face of the COVID-19 crisis.