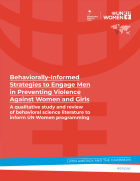 This document identifies potential target behaviors and barriers and proposes behaviorally-informed solutions to engage men in VAWG prevention in LAC. To this end, it draws on two sources: 1) a literature review of the behavioral science and VAWG literature focused on barriers, facilitators, and successful interventions; 2) qualitative semi-structured interviews with men and experts who work with men in VAWG prevention in LAC.
Developed by UN Women, CIM and MESECVI, this practical legal guide brings together a systematic and analytical compilation of 130 judgments, decisions, and resolutions in paradigmatic cases, so that both civil society and public institutions -legislative, executive, and judicial- can count with tools for the cross-cutting application of the protection standards in force in International Human Rights Law, related to cases of gender-based violence against women. Violence against women in politics is included. (Note: The blurb should be a tiny, jargon-free description of the publication (ma
The objective of the Action Model is to ensure that UN Women, as an expert agency on gender equality and women's empowerment, offers appropriate programmatic options for the purpose of generating transformative changes for women and girls in the region, within the framework of the 2030 Agenda and the Sustainable Development Goals.