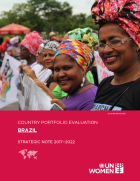 The Country Portfolio Evaluation of UN Women Brazil provides a systematic assessment of the organization's normative, coordination and programmatic contribution to development results related to gender equality and women's empowerment at the country level over the 2017-2022 period.
Business Case - Report on Equality Means good business: gender contribution to business, best practices and suggested KPIs framework
This report offers an overview of the activities carried out by UN Women in Latin America and the Caribbean during the 2016-2018 period. The delimitation of the period is not arbitrary; Those who are familiar with the organization, announce that they coincide with the validity of the previous Strategic Note, before the one that is in force today for the period 2019-2021 was adopted.