The links between biodiversity, climate change and gender are real and undeniable. In many places in Latin America and the Caribbean, the livelihoods of women and girls depend, in large part, on natural resources. They have a relationship with nature that is different from men's, where we can observe different roles, knowledge, dependencies and contributions to conservation and sustainable management.
This report offers an overview of the activities carried out by UN Women in Latin America and the Caribbean during the 2016-2018 period. The delimitation of the period is not arbitrary; Those who are familiar with the organization, announce that they coincide with the validity of the previous Strategic Note, before the one that is in force today for the period 2019-2021 was adopted.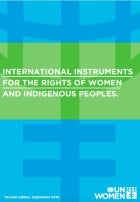 This publication, in which international treaties are reproduced on the rights of women and indigenous peoples, is based on the compilation by the UN Women Regional Office for the Americas and the Caribbean and replaces the first edition of 2012 based in the Regional UN Women Program "Working against ethnic and racial discrimination for the effective exercise of the rights of indigenous Latin American women". It was re-edited and presented here in the context of the World Conference of Indigenous Peoples 2014.