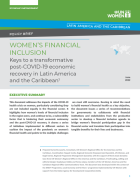 This document addresses the impacts of the COVID-19 health crisis on women, particularly considering they are not included equally in the financial sector. It highlights how women's levels of financial inclusion in the region were, and continue to be, a vulnerability factor that is hindering their economic autonomy and the post-COVID-19 recovery.
This working paper provides a framework for women's economic empowerment, which draws on lessons learned, key strategic documents, and expertise generated by the implementation of the MELYT Programme focusing on women, the local economy, and dynamic territories in the Trifinio area2 of Central America
This report offers an overview of the activities carried out by UN Women in Latin America and the Caribbean during the 2016-2018 period. The delimitation of the period is not arbitrary; Those who are familiar with the organization, announce that they coincide with the validity of the previous Strategic Note, before the one that is in force today for the period 2019-2021 was adopted.