Crisis management or emergency situations such as COVID-19 can have serious impacts on the lives of women and girls, if gender dimensions are not considered. Issues such as care work, economic autonomy, physical or sexual violence, women's participation in decision-making, disaggregation of data by sex, gender analysis, and irregular migration are just some of the areas of concern that  must be part of an effective response to the health crisis that the world is going through right now. ...
The objective of the Action Model is to ensure that UN Women, as an expert agency on gender equality and women's empowerment, offers appropriate programmatic options for the purpose of generating transformative changes for women and girls in the region, within the framework of the 2030 Agenda and the Sustainable Development Goals.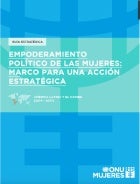 The strategic guide: "Political empowerment of women: framework for strategic action in Latin America and the Caribbean (2014-2017)", provides a framework for action identified in five strategic objectives, to move towards parity democracy and empowerment of women. These are: promoting parity democracy through affirmative action; the integration of a gender perspective in policies, actions and institutions; strengthening women's leadership through training and the creation of women's networks; encouraging substantive equality in political parties; and elimination of discrimination and gender stereotypes in all areas.