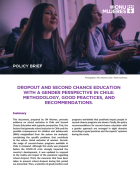 Second Chance programs and schools consider different levels of approach, since it is understood that, although the ideal is that no student leaves school before graduating, for those who are outside the system, it is necessary to offer options that allow them to reintegrate and have equal opportunities.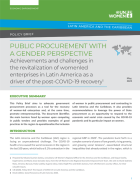 The Policy Brief "Public procurement with a gender perspective. Achievements and challenges in Latin America to energize women-led enterprises as an engine for post-COVID-19 recovery" identifies the main barriers that women face when competing in public tenders and collects some examples of good practices to operationalize the inclusion of women in public procurement and contracting in LAC. It also offers recommendations for harnessing the power of government procurement as an opportunity to respond to the economic and social crisis caused by the COVID-19 pandemic and its impact on women and to advocate for sustainable recovery.
The Policy Brief "Domestic Workers in Latin America and the Caribbean during the COVID-19 Crisis", prepared jointly by UN Women, ILO and ECLAC, illustrates the situation of special vulnerability faced by domestic workers in Latin America and the Caribbean, highlighting the impacts of the current crisis caused by COVID-19. It also describes the measures promoted by social actors and institutions in the countries of the region and makes visible how much can still be done to guarantee the labor rights of domestic workers.