Education is essential for women to attain gender equality and become leaders of change. A girl or a woman who attends school is exercising her fundamental human right to education. She also has a great chance of reaching her full potential throughout life, as she will be better prepared for a decent, well-paid job. Although Chile is a country with high schooling rates compared to the regional and worldwide numbers, inequalities can still be observed in access to education for girls and...
This year's regular resources report analyses how UN Women mobilized its core contributions in 2019 to fulfil its normative, coordination, and operational activities mandate, in order to improve the lives of women and girls worldwide. Through the presentation of tangible results, this report presents case studies at the global, regional, and country levels to showcase the impact that regular resources have in the countries where UN Women is present.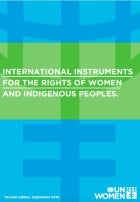 This publication, in which international treaties are reproduced on the rights of women and indigenous peoples, is based on the compilation by the UN Women Regional Office for the Americas and the Caribbean and replaces the first edition of 2012 based in the Regional UN Women Program "Working against ethnic and racial discrimination for the effective exercise of the rights of indigenous Latin American women". It was re-edited and presented here in the context of the World Conference of Indigenous Peoples 2014.