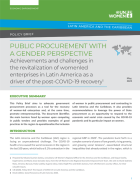 The Policy Brief "Public procurement with a gender perspective. Achievements and challenges in Latin America to energize women-led enterprises as an engine for post-COVID-19 recovery" identifies the main barriers that women face when competing in public tenders and collects some examples of good practices to operationalize the inclusion of women in public procurement and contracting in LAC. It also offers recommendations for harnessing the power of government procurement as an opportunity to respond to the economic and social crisis caused by the COVID-19 pandemic and its impact on women and to advocate for sustainable recovery.
Building back better requires transforming the development model of Latin America and the Caribbean
This brief focuses on the impacts of COVID-19 on women and girls in sports in five areas - Leadership, Gender-Based Violence, Economic Opportunities, Media Participation and Representation, and Girls Participation in Sport - and presents key recommendations to different actors in the sport ecosystem to respond to the crisis with a gender perspective and recover better in terms of gender equality.