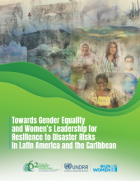 Reference document for the Latin America and the Caribbean Regional Consultation prior to the sixty-sixth period of sessions of the Commission on the Status of Women (CSW66), in the context of the 62nd Meeting of Presiding Officers of the Regional Conference on Women in Latin America and the Caribbean to be held on January 26-27 2022. This consultation is organized by the United Nations Entity for Gender Equality and the Empowerment of Women (UN Women) and the Economic Commission for Latin America and the Caribbean (ECLAC).
This brief focuses on the impacts of COVID-19 on women and girls in sports in five areas - Leadership, Gender-Based Violence, Economic Opportunities, Media Participation and Representation, and Girls Participation in Sport - and presents key recommendations to different actors in the sport ecosystem to respond to the crisis with a gender perspective and recover better in terms of gender equality.
The Latin America and the Caribbean region has the highest levels of income inequality in the world, with wide gaps in living standards across countries, regions, sectors, and socioeconomic spheres. When coupled with the pervasive gender inequality that persists, the response to Covid-19 becomes immeasurably more complicated, finds a new report by CARE International and UN Women.