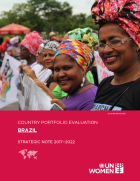 The Country Portfolio Evaluation of UN Women Brazil provides a systematic assessment of the organization's normative, coordination and programmatic contribution to development results related to gender equality and women's empowerment at the country level over the 2017-2022 period.
Business Case - Report on Equality Means good business: Gender Perspectives and Inclusion in companies: Financial and non-financial impacts.
Conducted within the scope of the "Win-Win: Gender equality means good business" programme, which is implemented by UN Women together with the International Labour Organization (ILO) and funded by the European Union (EU), this research aims to know the impact of sexist advertising on brand positioning.