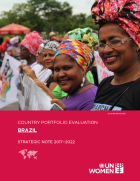 The Country Portfolio Evaluation of UN Women Brazil provides a systematic assessment of the organization's normative, coordination and programmatic contribution to development results related to gender equality and women's empowerment at the country level over the 2017-2022 period.
The main purpose of this regional evaluation is to document the work carried out by UN Women to increase and facilitate access to justice for women who have been victims of violence ¡ and put an end to impunity in the region of Latin America and the Caribbean, as well as analysing their achievements and outcomes and identifying lessons learned that can serve as the basis to design a regional programme on the subject.
The initial basis for the meta-analysis was composed of all the evaluations carried out in the 2011-2014 period by the offices of UN Women, either at the country, multi-country or regional level, together with the evaluations carried out by the Fund for Gender Equality (FIG) of UN Women in the region. The analysis of these evaluations has allowed us to provide evidence that serves the reflection and decision-making of the Regional Office for the Americas and the Caribbean, country and multi-country offices, as well as the mid-term review process (Mid Term Review) of the Note Regional Strategic 2014-2017.