This year's regular resources report analyses how UN Women mobilized its core contributions in 2019 to fulfil its normative, coordination, and operational activities mandate, in order to improve the lives of women and girls worldwide. Through the presentation of tangible results, this report presents case studies at the global, regional, and country levels to showcase the impact that regular resources have in the countries where UN Women is present.
The objective of the Action Model is to ensure that UN Women, as an expert agency on gender equality and women's empowerment, offers appropriate programmatic options for the purpose of generating transformative changes for women and girls in the region, within the framework of the 2030 Agenda and the Sustainable Development Goals.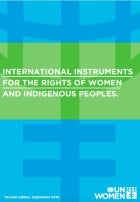 This publication, in which international treaties are reproduced on the rights of women and indigenous peoples, is based on the compilation by the UN Women Regional Office for the Americas and the Caribbean and replaces the first edition of 2012 based in the Regional UN Women Program "Working against ethnic and racial discrimination for the effective exercise of the rights of indigenous Latin American women". It was re-edited and presented here in the context of the World Conference of Indigenous Peoples 2014.