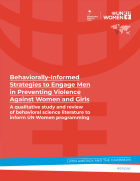 This document identifies potential target behaviors and barriers and proposes behaviorally-informed solutions to engage men in VAWG prevention in LAC. To this end, it draws on two sources: 1) a literature review of the behavioral science and VAWG literature focused on barriers, facilitators, and successful interventions; 2) qualitative semi-structured interviews with men and experts who work with men in VAWG prevention in LAC.
This year's regular resources report analyses how UN Women mobilized its core contributions in 2019 to fulfil its normative, coordination, and operational activities mandate, in order to improve the lives of women and girls worldwide. Through the presentation of tangible results, this report presents case studies at the global, regional, and country levels to showcase the impact that regular resources have in the countries where UN Women is present.
The objective of the Action Model is to ensure that UN Women, as an expert agency on gender equality and women's empowerment, offers appropriate programmatic options for the purpose of generating transformative changes for women and girls in the region, within the framework of the 2030 Agenda and the Sustainable Development Goals.