Business Case - Report on Equality Means good business: Gender Perspectives and Inclusion in companies: Financial and non-financial impacts.
Conducted within the scope of the "Win-Win: Gender equality means good business" programme, which is implemented by UN Women together with the International Labour Organization (ILO) and funded by the European Union (EU), this research aims to know the impact of sexist advertising on brand positioning.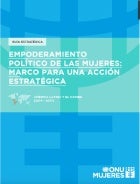 The strategic guide: "Political empowerment of women: framework for strategic action in Latin America and the Caribbean (2014-2017)", provides a framework for action identified in five strategic objectives, to move towards parity democracy and empowerment of women. These are: promoting parity democracy through affirmative action; the integration of a gender perspective in policies, actions and institutions; strengthening women's leadership through training and the creation of women's networks; encouraging substantive equality in political parties; and elimination of discrimination and gender stereotypes in all areas.