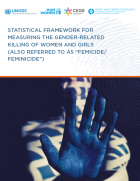 This document provides a comprehensive statistical framework for measuring the gender-related killing of women and girls (femicide/feminicide). Besides the statistical definition of such killings, the framework identifies a typology of gender-related killings of women and girls (femicide/feminicide) and the list of variables that can be used to identify and count the various types of such killings. The definition and typology are aligned to the structure and framework of the International Classification of Crime for Statistical Purposes (ICCS), which can therefore be applied independently from the specific national legislation on such crimes.
Since the start of the COVID-19 pandemic, shrinking working hours, increased care burdens, and heightened violence have exacerbated the challenges that women and girls face. Unless action is taken, by 2021 around 435 million women and girls will be living in extreme poverty, including 47 million pushed into poverty as a result of COVID-19. This publication presents the latest evidence on the multiple impacts of the pandemic on women and girls.
On this occasion, both MESECVI and UN Women intend to provide the region with a model law on femicide/feminicide to address the most serious women´s human rights violation. To do so, we will first analyze the existing legislation, provoking debate and improvement in cases where it is required.