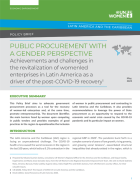 The Policy Brief "Public procurement with a gender perspective. Achievements and challenges in Latin America to energize women-led enterprises as an engine for post-COVID-19 recovery" identifies the main barriers that women face when competing in public tenders and collects some examples of good practices to operationalize the inclusion of women in public procurement and contracting in LAC. It also offers recommendations for harnessing the power of government procurement as an opportunity to respond to the economic and social crisis caused by the COVID-19 pandemic and its impact on women and to advocate for sustainable recovery.
This document was prepared for the Special Session of Latin America and the Caribbean's Regional Consultation prior to the Sixty-fith Session of the Commission on the Status of Women (CSW65) to be held virtually on February 24 and 25, 2021 in the framework of the Sixtieth Meeting of the Presiding Officers of the Regional Conference on Women in Latin America and the Caribbean.
Since the start of the COVID-19 pandemic, shrinking working hours, increased care burdens, and heightened violence have exacerbated the challenges that women and girls face. Unless action is taken, by 2021 around 435 million women and girls will be living in extreme poverty, including 47 million pushed into poverty as a result of COVID-19. This publication presents the latest evidence on the multiple impacts of the pandemic on women and girls.