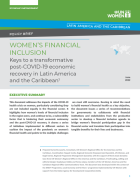 This document addresses the impacts of the COVID-19 health crisis on women, particularly considering they are not included equally in the financial sector. It highlights how women's levels of financial inclusion in the region were, and continue to be, a vulnerability factor that is hindering their economic autonomy and the post-COVID-19 recovery.
Since the start of the COVID-19 pandemic, shrinking working hours, increased care burdens, and heightened violence have exacerbated the challenges that women and girls face. Unless action is taken, by 2021 around 435 million women and girls will be living in extreme poverty, including 47 million pushed into poverty as a result of COVID-19. This publication presents the latest evidence on the multiple impacts of the pandemic on women and girls.
The links between biodiversity, climate change and gender are real and undeniable. In many places in Latin America and the Caribbean, the livelihoods of women and girls depend, in large part, on natural resources. They have a relationship with nature that is different from men's, where we can observe different roles, knowledge, dependencies and contributions to conservation and sustainable management.