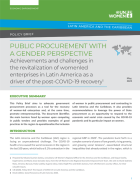 The Policy Brief "Public procurement with a gender perspective. Achievements and challenges in Latin America to energize women-led enterprises as an engine for post-COVID-19 recovery" identifies the main barriers that women face when competing in public tenders and collects some examples of good practices to operationalize the inclusion of women in public procurement and contracting in LAC. It also offers recommendations for harnessing the power of government procurement as an opportunity to respond to the economic and social crisis caused by the COVID-19 pandemic and its impact on women and to advocate for sustainable recovery.
Cash Transfer Programmes (CTP), widespread in Latin America and the Caribbean as a mechanism of social protection to alleviate social and economic difficulties of those living in poverty. CTP has been identified as one of the fastest mechanisms in the face of the COVID-19 crisis.
In order to make progress in achieving significant equality in the country, it is necessary to analyze the conditions in which discrimination and gender gaps occur. Through this scenario, UN Women, in partnership with the Government of Colombia through the DANE, developed the flagship report "The Progress of women in Colombia 2018: transforming the economy to guarantee rights", a study that contributes to promoting accurate information that allows for the analysis and implementation of concrete actions so that the country fulfills its commitments to the Sustainable Development Agenda for the Year 2030.