Women and the Sustainable Development Goals (SDGs)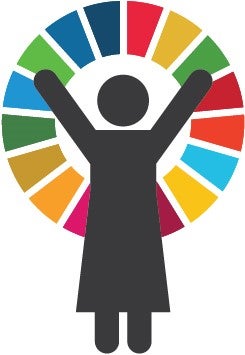 The issue
She walks for hours to fetch water and toils in drought-prone fields to feed her family…
She left her country with the promise of a good job only to find herself forced into sex work…
She picks up the pieces after a cyclone destroys her makeshift home and small business…
She is the provider, farmer, teacher, doctor, entrepreneur, minister, leader, mother — contributing every day to her household, society and the economy.
Women and girls make up more than half the world's population — and they are on the frontlines — often more deeply impacted than men and boys by poverty, climate change, food insecurity, lack of healthcare, and global economic crises. Their contributions and leadership are central to finding a solution.
With the new global 2030 roadmap and Sustainable Development Goals (SDGs) set to be approved by UN Member States on 25 September 2015, we take a look at how women are affected by each of the 17 proposed SDGs, as well as how women and girls can — and will — be key to achieving each of these goals.
In this editorial spotlight, we showcase data, stories, videos and publications to illustrate the impact of each SDG on women and girls, and some of UN Women's efforts towards each goal, including our programmes, intergovernmental work and advocacy for policy change.
Join the conversation
Join the conversation around the #GlobalGoals and #Planet5050 on social media. Messages and images for sharing on Twitter and Facebook will be available in English, Spanish and French at http://owl.li/S6uFd . Don't miss our #AskUNWomen Twitter chat on 21 September on the topic!