In Focus: International Youth Day
Stories | Video | Statement | Social media
The COVID-19 pandemic has brought a profound shock to our societies. In addition to the health crisis, it has disrupted education, livelihoods and social lives, increased care burden and led to rising levels of violence against women at home and in communities.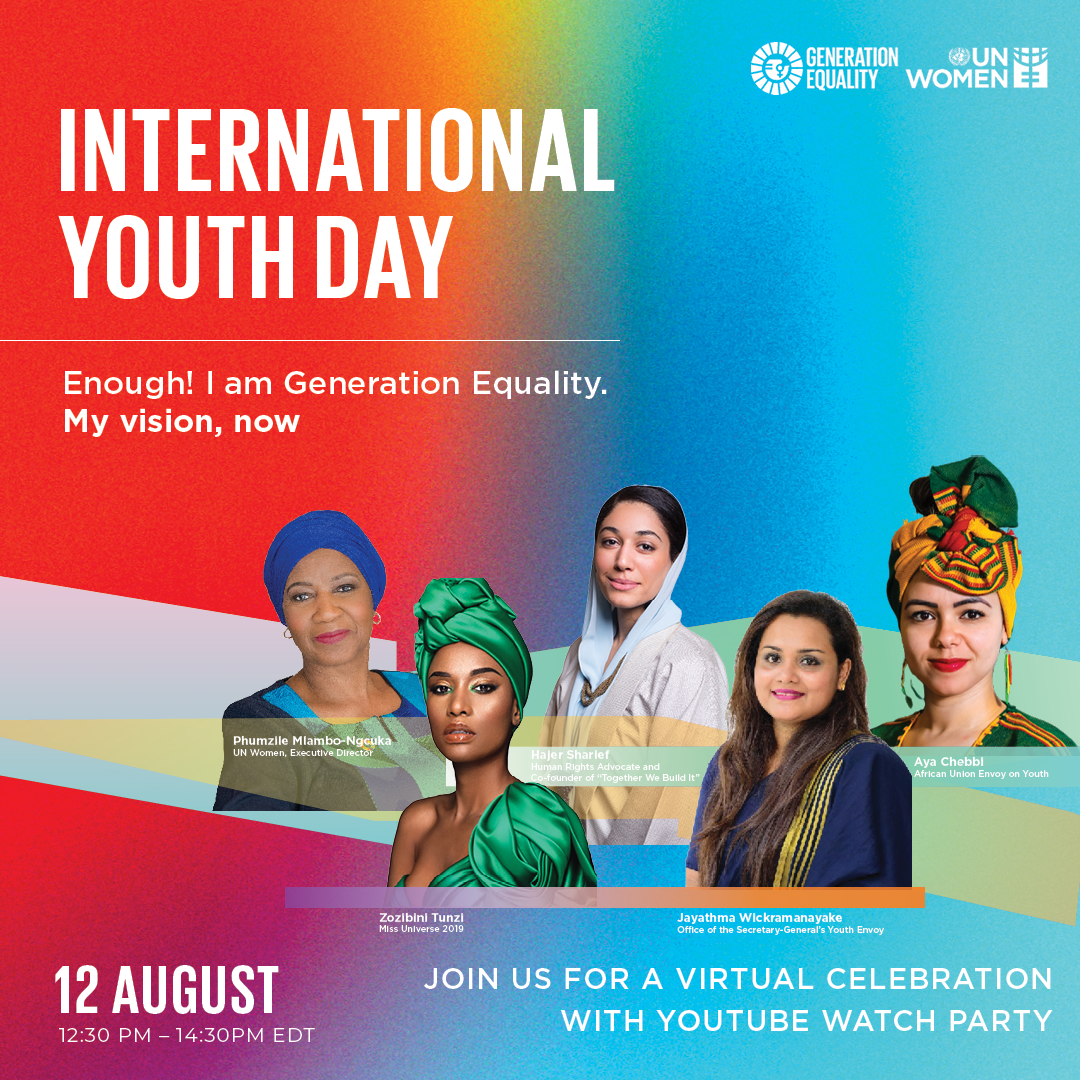 For youth, many of these impacts will be long-lasting and multi-dimensional. For example, 191 countries have implemented nationwide or localized school closures with 1.5 billion people not being able to go to school. The closures are expected to impact not only learning, but access to free or low-cost nutritional meals and essential social services and support. Even before the pandemic, globally 77 per cent of youth were estimated to be informally employed. Small entrepreneurs and those employed in the informal sectors are among the hardest hit by the economic shocks of COVID-19.
Youth are also leaders at the forefront of the crisis, pushing for equality, justice and dignity for all. Around the world, feminist youth and women's organizations are supporting the design and implementation of response and recovery programmes. They are combating misinformation through grassroots campaigns, volunteering to support the elderly and vulnerable populations, and inventing inclusive solutions.
The theme of International Youth Day 2020, "Youth Engagement for Global Action", highlights all the ways that young people are enriching institutions, contributing solutions and shaping decisions in their communities, countries and globally.
On International Youth Day, uplift the voices and experiences of youth in action.
Statement
In a statement for International Youth Day, UN Women Executive Director Phumzile Mlambo-Ngcuka highlights the immense value of young people who are at the forefront of global action for change, both in responding to the pandemic and in working to address the systemic inequalities it has unearthed. Read more ►
Video: These 20 young activists will inspire you to join the fight
This International Youth Day, in the midst of the COVID-19 pandemic, young people across the world are demanding a fairer, more inclusive world for women and girls. From eradicating poverty and promoting decent work, to ending discrimination and violence against women, this new generation of changemakers is showing the world how to take action for gender equality. They are Generation Equality - watch to find out how you can join the movement too.
Stories
Social media
It's time to celebrate International Youth Day and amplify young people's voices, actions and movements.
Join the conversation online using #YouthDay and #GenerationEquality.
You can access and share our social media package on Trello and Dropbox for motivating graphics, engaging videos and inspiring stories in multiple languages.
Follow us
@UN_Women, @ONUMujeres, @ONUFemmes, @SayNO_Unite, @phumzileunwomen on Twitter
UN Women, ONU Mujeres, ONU Femmes, Say NO - UNiTE on Facebook
UN Women and Say NO – UNiTE on Instagram
unwomen on Snapchat
UN Women on LinkedIn